OJAI TO INDIA - A Wonderful Article About WFF in the News:
Photojournalist Carmen Smyth visited Prashanti School in January, 2017, and she writes about her experiences in the cover article of the VC Reporter, March 2, 2017. Click HERE to read the whole article.
​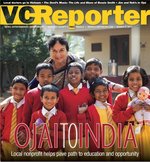 ---
Satya Narayan Panda - A Wonderful WFF Success Story
"I just wanted to tell all of our sponsors you have given so much help to us poor students, so that we too can follow our dreams. Otherwise it would never have been possible. Thank you!"
Satya Narayan Panda came to Prashanti School when he was 8 years old. He came from a very poor background with very little support. WFF sponsorship provided Satya with housing, food, clothing, medical care, tuition and daily tutoring, all the way through pharmaceutical school. He graduated with first division marks. Satya recently was selected to be a pharmacist in the Puri Government Hospital, which is a highly valued position that offers advancement and job security - a remarkable achievement for a village boy in India!
Here is Satya's story in his own words:
"I lived at Prashanti School and studied with the dedicated tutors here for about 8 years, from class 2 or 3 through class 10. In the daytime I went to the local government school. My father had met with an accident and it left his right arm paralyzed so he could not work. My mother had to go to work in a local man's home and he told us about Prashanti School which could help me with an education.

When I finished high school with the help of Prashanti School tutors, I had 80 % results. I was able to take science in junior college, plus 2. I got 59% on that final exam (90% in physics). Then I took a government test in Bhubaneswar to get entrance to plus three college. I wanted medical but it was impossible to get a seat for medical college. About 60,000 students took this test for selection for medical, engineering and pharmaceutical training. There were 640 government seats open for each of these areas. In addition there were 1000 seats in private colleges for medical training, 1500 for engineering in private colleges and 2000 seats for pharmacy training in private colleges. Government colleges do not charge so much but it is so difficult to get in. I was actually selected for a government seat In pharmacy but the college was in Cuttack and hostel fees would be too costly. So I joined a local private pharmacy college in Puri. Prashanti School helped to pay for my college fees there. It was a 2 year course with 1/5 year practical training afterwards. By grace of God and the help of my loving Prashanti sponsors, I graduated in first division with distinction. I got overall about 81%.

---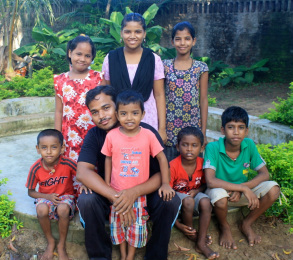 Immediately after graduation I was able to get a job at a local private hospital called Emergency-24. I was hired as an anesthetist assistant. The head of anesthesia taught me how to calculate the amount of drugs needed in an operation and how to administer them during the actual operation. I was on call 24/7. I have had this job for the past 2 years. I receive now Rs. 9,000/month. I have been called many times for C-sections, two this past week. One of my most memorable moments was during a C-section last year. A baby boy was delivered but he had a respiratory problem and was not breathing. I delivered mouth to mouth suction (and remembering the name of God all the while) and he started to cry. I felt so happy! Prashanti School taught us to serve mankind. This is a very nice way to serve mankind.

One month ago I answered a government ad for pharmacists at government hospitals in Odisha. They asked for my Prashanti School class 10 results (80%). Plus two results (59% but 90% in physics), and Pharmacy college results (80%, first class with distinction). I applied in three districts but was hoping to get a job in Puri government hospital so I could care for my mother and invalid father. I am their only son. There were 395 applicants in Puri and 16 seats. Again by grace of God and the loving help of Prashanti School and my dear sponsors, I got seat number ONE!!!!!! I will join in Sept., 2015. I will work in the pharmacy office filling prescriptions for patients. It is a very big hospital here in Puri so I will be very busy, but I will work an eight hour shift. My beginning pay will be Rs. 7,600 but after 6 years I will become a permanent government employee and receive Rs. 20,200 plus other benefits. Everyone wants a government job because it is very secure. This is my dream job and also my mother's dream for me.
Thank you Prashanti School and my very dear WFF sponsors, Auntie Judith and Uncle Geoff. God bless you all." Sathya Narayan Panda

---

---
Birabar and Biprabar - Two Remarkable WFF Students
"Without Prashanti School, we would never have gone beyond seventh grade, and we would now be working in the paddy fields instead of going to college."

Birabar and Biprabar Samantasinhara are twin brothers who came to Prashanti School thirteen years ago when they were just little boys. They are now 19+, and studying in college. The boys came to Prashanti School less than one year after the 1999 super cyclone went straight through their village and caused great devastation and loss of life in the whole Puri area. The wall of their hut collapsed, killing their father. They were very little and their mother lost everything - the hut, the coconut trees on their property, etc. When she brought them to the school, she was very thin and sick.

The boys clung to each other and for several months were very sad. Then their WFF sponsors sent them two little toy cars (see photo). Usually we don't give individual gifts, but the boys were very sad, and as Elizabeth gave them the cars she remembers the boys smiling for the first time!

Since then, they have become excellent students and are still very very close to each other. It is sometimes hard for people in the West to realize how tenuous life is for poor people here in India. The boys' family has had many serious problems over the years. Biprabar nearly died of boils which infected his blood when he was about 12. We had prayers for him from around the world. Birabar had chronic tonsil problems and his WFF sponsors paid to have the tonsils removed. The boys have four older sisters who are married but very poor. One sister is married to a "mad man" who is unable to work, and she has a son who is severely learning disabled. Her younger son, Shail, is now at Prashanti School and doing very well.This same sister came down with brain malaria or dengue fever and was given up for lost. She was in a deep coma. We paid for her to be taken to Cuttack Research Hospital and by the grace of God she came out of the coma and eventually recovered. She had such bad bed sores that she had to have skin grafts. Then the boys' mother developed TB in her back a few years ago. Last year, 2012, she could no longer walk and was hospitalized in the free public hospital in Puri. The boys took care of her daily at the hospital as well as attending classes. She died in September peacefully because, as she said, she knew the boys' "sponsors, Prashanti School and God Himself" were taking care of her children. Biprabar says that thanks to Prashanti School they have faced no problems since the loss of their dear mother.


---

Both boys are 1st division students and plan to become high school teachers one day. They are the first ones in their family to graduate high school, and the first to go to college. They will be great teachers and they are already helping to tutor the younger ones in Prashanti School now. Biprabar is an excellent speaker and received an award this year in debate in the English language. Birabar is a very good actor and got an award in an All India Drama Competition at his college. Both participate in lots of college extracurricular activities that one day, as teachers, they can introduce into their high school classes.


---

The Value of Sponsorship
Birabar and Biprabar exemplify the WFF focus on the importance of developing good character as well as good academics. They are always eager and willing to help others in whatever way is needed. The boys plan to have families one day, but to only have one or two children each.

When asked what they have learned at Prashanti School, Birabar and Biprabar said they learned discipline, respect for elders, to honor their teachers, to help the younger students, and most of all, gratitude. They said that when they came to PS, the older boys were like big brothers to them, and so they also like to help the small children however they can. They said, "Without Prashanti School, we would never have gone beyond seventh grade, and we would now be working in the paddy fields instead of going to college."