The Story of World Family Foundation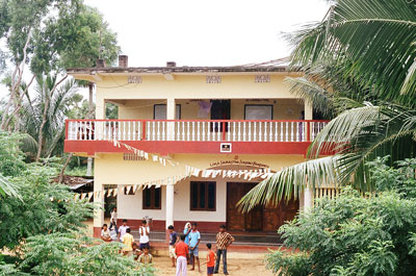 The face of a small girl,
Kandhei
, in a tattered frock speaks silently of her suffering after the devastating cyclone that hit Orissa, India in 1999. Kandhei and her little brother, Khageswar, were left orphaned and homeless. More than 10,000 people were killed and whole villages were swept away in one of the worst cyclones to hit the area in 100 years. This disaster left many families unable to procure even the barest of necessities for survival.
In response to this horrible aftermath, our founder, Elizabeth Burnett expanded the existing Prashanti Preschool Chatasalis into the current registered non-profit Prashanti School and orphanage in Puri, Orissa. Orphans were taken in as boarding students and all their needs provided free of cost: government schooling, home tutoring, food, clothing, and medical expenses.
Kandhei and Khageswar were among the fortunate ones to find loving refuge in Prashanti School. Since its inception, several of the children have graduated, some having gone on to college or vocational training. As the older children leave the school there are many other needy children waiting to be admitted. There are now up to 60 children between the ages of 5 and 16 living and studying at Prashanti School. They are supported by their
sponsors
, whom they lovingly call their "aunties and uncles."
World Family Foundation was established in the United States in 2003 as a tax-exempt charitable trust in order to meet the ever-increasing needs of these dear children. As a result of the caring commitment of our sponsors and the success of Prashanti School, World Family Foundation has expanded its assistance to girls in Sri Lanka. Click here for details on all
projects
. Our Board of Directors is comprised of experienced volunteers who are committed to helping others and changing the world, one child at a time. More than 90% of all donated funds goes directly to projects that benefit the children.
Kandhei has now completed college and she has trained in tailoring.Her tailoring business has allowed her to become self-supporting. After marriage, Kandhei says she will continue to be a tailor. She loves to sew and can make blouses, frocks, shirts and Punjabi dresses! When asked what she learned at Prashanti School, Kandhei said,
" I learned silence, good study habits and respect. "Help ever, hurt never." Kandhei says that even now she stays in touch with old students of Prashanti. They are like my brothers and sisters too. Kandhei says, " Now I have a very big family!"
---
| | | |
| --- | --- | --- |
| | Kandhei, 2000 - with other children in Prashanti School (in green dress, her little brother in blue T-shirt) | |