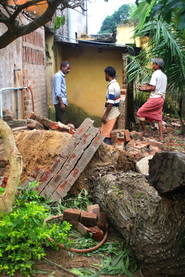 Dear World Family Foundation friends, sponsors and donors,

First of all, we send you our deepest thanks for all of your loving prayers at the time of the huge cyclone here. It was reported that winds reached 230 kilometers per hour (143miles/hour) and was the strongest cyclone ever recorded. But by grace of God and all of your prayers, the winds hit from the northeast and actually were pushing the storm surge back out to sea here in the southeast side of Puri. Otherwise there would have been gigantic tidal waves and all would have been washed away. Again thanks to your prayers and the protection of the Divine Hand, all are safe.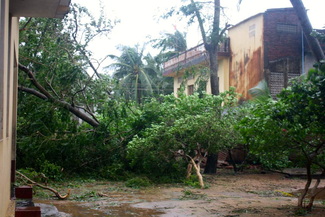 Here in cyclone times schools are often used for storm shelters. Our boys' building hostel became such a storm shelter for many of the neighbors also, especially mothers with small babies. Other local residents took shelter at the Digambara Baba Ashram (Totapuri, guru of Sri Ramakrishna) which is a few hundred feet away. It is high up on a sand dune but has no buildings with adequate protection from flying objects, just a big verandah and many of their trees also fell in the high winds. Maybe one hundred or so local families went there during the night of the highest winds.

So this made us aware of the urgent need for our new school building which is about to be constructed to also become a real storm shelter for all here! We are hoping to have Larsen and Toubro, one of the biggest construction companies in India, do the construction at cost as part of their social responsibility requirement. Any donations that can be given to complete this project will have lasting impact both in terms of education and safety for all the children here.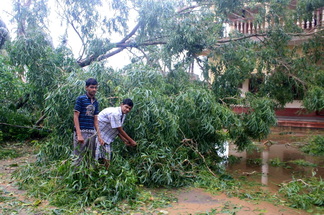 We are sending some photos of the storm damage at the hostel and school. One big akhasa tree fell and uprooted the washroom at the hostel also. But again by God's grace it fell on the playground sands and not on the boys' building where all of us were staying upstairs. The washroom is now being rebuilt as it is needed daily for washing dishes and clothes. At the school down the road many cashew trees or at least their branches were broken and it took a week of all day clean up to make the school ready for reopening on Oct. 21. There is still a lot of water on the 2 acre property. The price of vegetables has tripled and today we are anticipating more heavy rain from the south, but no high winds. This cyclone season is about over, thank God. Usually cyclones do not come so far north on the Bay of Bengal. But weather conditions are more extreme all over the world now.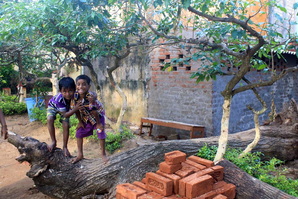 The little children, bless them, rebound quickly and are playing happily between storms. Again thanks to God and all of your prayers, none were killed or injured in the cyclone. Most were with their mothers as it was Durga Puja holiday. Most of them live in huts or very poorly built one room brick houses and walls can easily cave in. Most of their houses had storm damage or at least trees down outside, as is true for all the residents of Puri district here. Two of our senior teachers live on the northeast side of Puri where the storm hit first and their houses still have 3 feet or more of sea water on the ground floor level.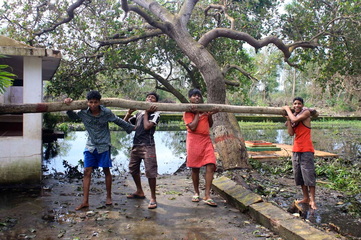 One of the beautiful moments after the cyclone was when many of our ex-students came to help in the clean up afterwards. Without their help the school and hostel could never have reopened on time. As we teach at the school, education is one fourth academics and three fourths character. We are so happy to report that many of these young men that you have helped to educate have grown into such beautiful giving souls and came to give back at this time of crisis. Again thank you all for your love and prayers for the children and all staff and residents here in Puri.

We send you our love,
Elizabeth Burnett, Jagannath Khuntia (M.D.) and all the children and staff of Prashanti School, Puri