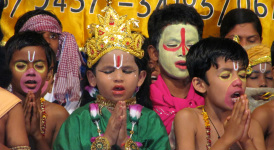 Through the eyes of WFF board members/sponsors Bruce & Leslie, California

Annual Day was celebrated for Prashanti International School (PIS) on January 20, 2013. It was attended by a large number of people from around the Puri area - families of the students who are enrolled at PIS, families who want to enroll their children at PIS, guardians and family members of our sponsored children who live at the residential children's home (PS), plus many well-wishers and special invited guests. As WFF board members and sponsors, Bruce and I were very fortunate to be present at the event, and to take part in the handing out of academic awards.

The program opened with special prayers and chants sung by PS students. Awards were presented to several children from each grade level for outstanding academic achievement, and for good character and habits.