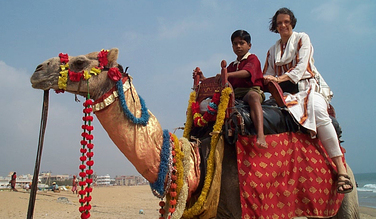 by Sara and Allen, Washington

For many years our family has had a close connection with India, but this was our first actual visit. On Jan. 22, 2003 we flew from Chennai (Madras) to Puri, excited at the prospect of meeting Pradeep, our sponsored child and of seeing his Prashanti School. Elizabeth Burnett, vice-president of WORLD FAMILY FOUNDATION, happened to be in India and at the school at this time, and arranged for Sambhu, the son of the General Secretary of Prashanti School, to meet us with a driver at the airport. Before we reached the school, we had been in India for two weeks. However, the old culture of India in Puri was quite different from what we had already experienced. The drive from the airport was full of scenes that kept ones eyes and curiosity well over- stimulated, not to mention the repetition of some form of mantra to keep you safe! (Drivers in India seem to have no rules; but they would pass any obstacle course in the US).

We settled into our hotel after a wonderful drive around Lord Jagannath Temple, one of the most famous temples in India. Sambhu, our guide, translator, and also an executive board member of Prashanti School, is a worshipper priest there. His father, Sri Somanath Khuntia, who is the General Secretary of the school, is a scholar and writer on Jagannath Temple. He can share many stories and experiences of this extraordinary holy place. We wanted to go to the school right away and soon were traveling with the driver and Sambhu through the narrow, crowded streets. Puri is a seaside vacation place, and also a honeymoon destination. There were many families, fishermen, camels and ponies on the beach. So much to look at. We headed north through the town past the village where Pradeep's mother worked. (His father is mad and abandoned the family.)

The school is situated in a private, quieter part of Puri. Goodness, I don?t think we could have found it on our own-- so many little streets and turns. But the first things one sees are the gates and a guard. I thought how thoughtful and safe the children must feel. Once inside the school grounds, the building, which is home to 54 children, is clean and colorful with a garden on the right. The back area of the garden is where the boys' building will soon be built. It was almost dark and we were just in time for bhajans (chanting of sacred songs).

One cannot describe the heart awakening experience of silently coming in during bhajan. All the children were on the floor, legs folded, eyes closed and singing. They did not know we were there. Pradeep was one of the lead singers. It was sublime. When the children opened their eyes and saw us, there was giggling, smiles and shyness. But they continued to sing happily for another half hour. We were glad.

Afterwards,we were taken outside to sit; for the hour of mandatory darkness that the city has imposed to save electricity was upon us. So by candlelight and flashlight we met our Pradeep. It is customary for the children in India to show respect by touching the feet of elders.. How surprising to have your little one do this at once. He expressed the little English he knew and we had Sambhu translate.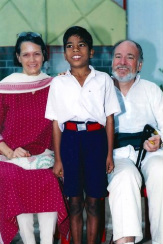 Saturday we took him, with Sambhu as our guide, to Konark Sun Temple (about 20 km from Puri). He had never seen the ocean, even though he lived 1/2 mile from it all his life. We took him down to the ocean, made sand castles and rode the camel and a pony ( a fear he quickly overcame). Our day included ice cream at the temple, and visiting temples of the monkey god Hanuman and other gods, amidst holding of hands and later lunch at his first restaurant. Perhaps it is not common in India, but we invited the driver to eat with us too. For the success of this journey, we wanted Pradeep to see that all were equal in our hearts. (The driver kept us safe on the roads!) Returning home in the taxi Pradeep fell asleep, and we decided one day of adventures was over. The next day was Republic Day, and we arrived early at the school to see the flag raised and the children recite national anthem and songs. Then all went off to school in uniforms. We had time to tour the school and meet the staff and several small children who study in pre-school at the school.. Some of them danced for us!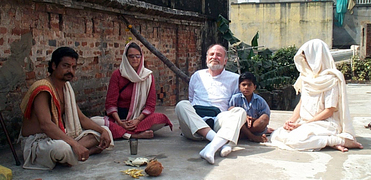 Returning later, Pradeep helped us with a puja near Lord Jagannath Temple. This is a special offering with prayers specifically offered for someone. Sambhu had arranged a priest to conduct this atop a hospital building, for as westerners we were not allowed into the temple. Pradeep helped with the offering of banana leafs, banana, coconut, and garlands. As we did the service, the monkeys came to observe (and to await the banana leftovers, I am sure.) This ceremony was particularly special, and we still feel the effects of its power today. Many pictures were taken! On our way back to the school we saw a wedding procession, earlier having seen a burial procession. Both were done with music, many songs, and lots of relatives. We were sad to have missed a school yoga demonstration and another bhajan while at our hotel resting.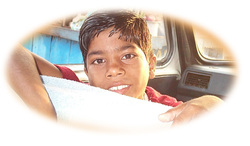 We returned to the school in the evening for a special meal that had been made in the temple and served on banana leaves, called Mahaprasad. It was delicious! We then went upstairs to watch it served to the children out of huge pots. How devotional they were as they waited with eyes closed, saying their prayers, and so appreciative of their food. We never saw a fight amongst the children-only fun tussling and playing. Saying goodbye to Pradeep was heart -wrenching. He became particularly close to my husband Allen. At parting time, we started to cry and he wiped the tears from our eyes. We whispered secret remembrances to him and hugged him. Then he returned to his seat on the floor for his Mahaprasad. He sat with his eyes closed, a tear falling down his cheek also. Our last glances at each other were long stares, drinking in each other. Oh, the experience is definitely worth repeating many times, as these dear little children grow up. This is what your small monthly gift is helping to provide: the love, the consistent security of a home, encouragement towards a firm education and occupational training , and a passbook for their future when they leave the school at 16. We offer our deepest gratitude to all the staff at Prashanti School for providing a home to 54 children (and soon more!) We feel deeply happy for being a part of this loving and very protective "net"-work for these very dear little children.