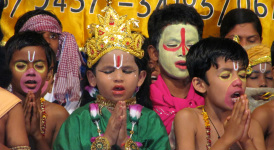 Through the eyes of WFF board members/sponsors Bruce & Leslie, California

Annual Day was celebrated for Prashanti International School (PIS) on January 20, 2013. It was attended by a large number of people from around the Puri area - families of the students who are enrolled at PIS, families who want to enroll their children at PIS, guardians and family members of our sponsored children who live at the residential children's home (PS), plus many well-wishers and special invited guests. As WFF board members and sponsors, Bruce and I were very fortunate to be present at the event, and to take part in the handing out of academic awards.

The program opened with special prayers and chants sung by PS students. Awards were presented to several children from each grade level for outstanding academic achievement, and for good character and habits.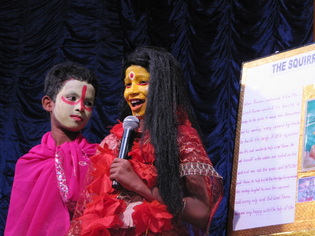 Children of different grade levels then gave verbal reports (without using any notes!) in English, Hindi and Oriya languages on topics including historical role models important to India, items of interest such as "The Cow" and "The Computer", and a favorite story of the children called "The Squirrel and Lord Rama." We were so impressed by the confidence with which they each handled the microphone and by how well they knew their material. Then two little ones each gave a special biographical report on their Grandmother and Grandfather who were up on stage with them - almost like "show and tell"! It was very touching and the proud smiles on the grandparents' faces brought tears to our eyes.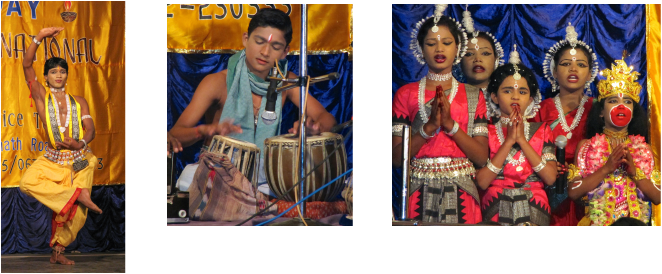 The cultural program included a stirring tabla performance by several of the boys, a stellar solo Classical Odissi Dance performance by Sunil Patra (standard 9), charming contemporary and folk dances by different age groups of children, elaborately costumed dance stories, and remarkable skits telling classic stories out of traditional Indian mythology.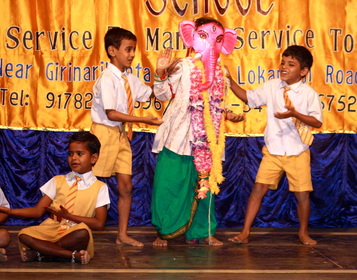 Some of the dances and skits were so humorous that we were again brought to tears, but this time from laughing so hard! It was obvious to us that the children loved performing, and that they had practiced many hours to do such a great job.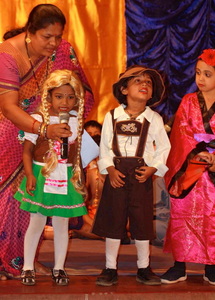 One of the most charming parts of the Annual Day event was when the youngest PIS kids in Lower Kindergarten came on stage dressed in costumes from cultures and countries from around the globe. With the help of their teachers, each one greeted the audience by saying "hello" in the language of the area they represented... "Bonjour, Salaam Alekum, Ni Hao, Guten Tag, Hola, Konnichi wa," and so on. They were so cute and they looked so proud of themselves. The families in the audience were positively beaming. As an "international" school, PIS is truly expanding the horizons of these village children.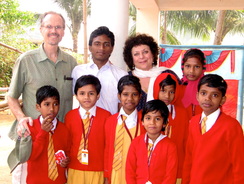 What the children accomplished in this production is truly remarkable - a testament to the creativity and hard work of their teachers and to the loving dedication of WFF and Prashanti International School founder, Elizabeth Burnett. We were so grateful to have had the chance to be there to see for ourselves. Bruce and I encourage all who can visit Prashanti School and PIS to make the effort to go - you will never forget the experience!

Many blessings to all from Leslie & Bruce Bouché